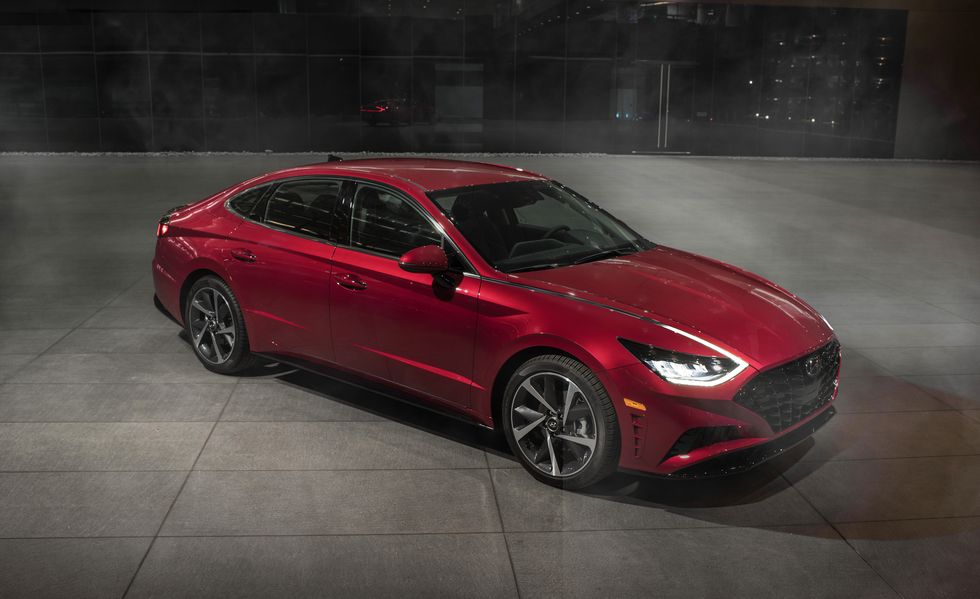 ?
Later in 2019, the Hyundai Sonata is set to enter its seventh generation with a dramatic style refresh and some cool new tech features. On the outside, the new Sonata is all attitude. A swept back roofline, long hood, and dynamic front fascia combine to form an aggressive sporty aesthetic that we think is honestly a little intimidating. Lower and wider, the 2020 Sonata wears a sculpted exterior highlighted by attractive curves and long sleek line; making this one sedan that's guaranteed to garner a second (and third) look.
On the inside, the 2020 Sonata is adorned with premium materials, modern style accents, and the latest in-cabin technology. Apple CarPlay and Android Auto are included as standard equipment, intuitively integrating your smartphone with the 8-inch touchscreen display (upgradeable to 10.25 inches). And, while many sedans offer wireless device charging, the new Sonata's wireless charging pad is ventilated, to keep your device cooler while in use.
Also new for the latest iteration, a remote park-assist feature moves the Sonata forward and backwards using buttons on the key fob. Sonata will also see the introduction of Hyundai's new digital phone-as-a-key technology, which lets you unlock doors and start the engine with a compatible smartphone.
Of course, the new Sonata will offer a full suite of advanced driver assistance technologies, including many as standard equipment: like automatic emergency braking, Smart Cruise Control, and automatic high beams. The new Lane Follow Assist technology is also standard.
No word yet on the exact release date, but when we hear one, we'll definitely be letting you know. When it does launch, be sure to visit Grieco Hyundai of Johnston where you can get a first-hand look at the new redesign and features, and even get behind the wheel for a test drive.